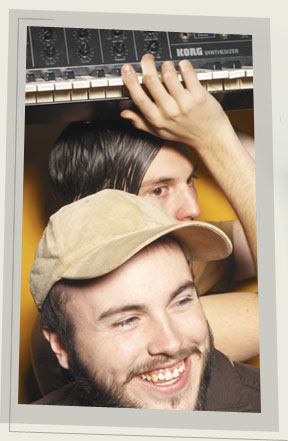 About
Datawaslost is close-knit group of musicians from across the Midwest, making records and art and god only knows what else with the hope that maybe some of it might actually be real enough to matter. We record it ourselves, in basements and bedrooms, sing our little hearts out to the tune of beeps and strummed guitars, then wrap it up, send it out, and see what happens. If we make money, then great, we get to make another record. If not, we do it anyway. We've all got day jobs to keep us fed, or at least no illusions about working in the music industry. We just like making music, and hope you like what we do.
Frequently Asked Questions
Can I send you my demo?
First, read that paragraph above. We're not the kind of record label that 'signs' bands - we're not interested in owning the rights to your music. There's no guy in a suit handing out bags of cash, and no one's making money off of anyone else. That's basically the situation that we're rebelling against, with a DIY approach towards manufacturing, promotion, and everything else involved in making a record. Our musicians-helping-musicians setup requires a lot more trust and a better relationship than we can get from simply listening to a CD - the bands whose material we've released are people we've played shows with, who've helped out with comps and singles before diving into an album. That said, sure - send us your music. Drop us an email with a link to mp3s or a myspace site, maybe a quick explanation of what you're about and where you're going - if it's not a form letter or completely misguided, we'll write back, and we'll talk like real people, not record labels and products.

Can I get promos of your releases for my magazine/blog/radio show?
Sure. Drop us a line, let us know what you do with a link that we can check out. If you need an actual cd rather than a link to high-quality mp3s, please explain why - we have a very limited supply of cd promos for radio and press, and delivering digitally saves time, money, and the environment.

Can I use an MP3 on my podcast/blog?
Any MP3s that we offer as promotional downloads on our site are pre-cleared for podcasting and blogs. You can even hotlink to the files our server if needed. If you're unsure about a track, please ask - not all of our releases are covered by the same licensing.

Where can I buy your records?
Beyond our online store, you can purchase most of our recent releases online at Amazon.com, or in digital format from eMusic or the iTunes Music Store. We are distributed in the US by Super D, and you can also get bulk discounts on purchasing through CD Baby. If you'd like to carry some of our titles in your store or catalog, please give us an email and we'll make it happen.
© two thousand ~ twenty . datawaslost