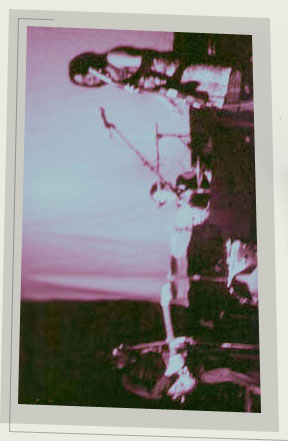 Lineup
David Enright . Guitar, Keyboards
Meghan Haas . Drums
Lisa Kagen . Bass
Related Artists
Lazy, The Haywards, Fudgie & Fufu, Cincinnati Reds UK
Contact
David Enright . inrite@gmail.com
Cincinnati, OH
Shows
Click Here For Past Shows
Deltoro
There was once a band that rose out of the ashes of Cincinnati but like all the other Cincinnati bands, they fell back into the ashes. They were called Deltoro and they were certainly a force to be reckoned with. Made up of two gals and a guy, they meant to set the record straight about love gone wrong, but that record was broken. With all the singsong earnestness they could muster, they could melt your heart while their stripped down harmonies and catchy melodies could be stuck on the tip of your tounge for days at a time. Deltoro was definitely the must-see band of the millenium.

Lisa Kagen (formerly of Siamese Jets) was in charge of the bass guitar. She could turn the world on with her smile and make even the meanest man weak in the knees with her voice - but dont let all that charm lull you into any kind of warm feeling. Lisa lives by the words "love is a battle field" and is on a mission (armed with the secrets she learned on the Georgia seaside) to tell it like it is straight from the heart letting nothing get in the way. You could stand back and admire her or maybe give her an encouraging smile but you just couldn't get too close because the fire in her eyes was the real thing.

Meghan Haas (formerly of Siamese Jets, the New Vulgarians & LAZY) was in charge of the drum set. Despite her small stature, Meghan was known to demonstrate super-human strength, one time lifting her Chevy Citation clear over her head. After spending the 90s trying to deliver too many messages to too many people, Meghan boiled down her manifesto to one clear and powerful message: Its gotta have that beat! She took her job seriously as the backbone and timekeeper and kept Deltoro as tight as a lid on a new jar of pickles.

David Enright (formerly of The David Enright and currently of The Haywards and sometimes maybe rumoured to be involved with Fudgie & Fufu) is in charge of the guitar and the keyboards. He left light shows and arena rock behind in the 90s and emerged this millenium as a straight-up "been there, done that" pop crooner, not to mention girl swooner. He has a knack for writing impossibly catchy songs that could make even the stodgiest and handicapped show attendees shake a tail feather.

Deltoro went their separate ways in 2002. After playing too many shows within the I-275 Loop, the I-275 Loop became a permanent part of the internal structure of their brains.

Meghan went on to become a superhero, traveling only by Brooklyn rooftop (all over the world). She is now known in the Hall of Justice as 'Haasbecome.' Don't even think of going to the Main City Bar. You may get a dose of her fuck you eyes - shes armed at all times.

Lisa is now the captain of a Vermont field hockey team called the Monte Simons. With the same discipline she used on her bass guitar she has lead her team to victory and victory over a thousand times. In her spare time, Lisa competes as a professional speller on the US government's proof-read team.

David Enright is now a fixture in the 'give him his medication' scene. Having never gotten over the breakup of Deltoro, he spiraled into the depths of depression and mental illness. It was a lifelong dream come true for him to play in a band with Meghan and Lisa. Ever since the Deltoro party ended, David became obsessed with keeping the band alive - even going as far as changing his name to Kagenhaas Beenright. It has been rumoured that he shows up at venues around the world with a two-stringed mandolin and does a Deltoro tribute act (with the highlight being his version of 'St. Christopher' - one of Meghan's songs from her other old band LAZY).

Sad..
Discography

Ashtray Yoga
{ DWL026 . LP . 2002 }
Deltoro's first and final full-length.

MP3s [ Black Keys ] [ Now That You're Dead ]
More Info . iTunes Music Store . eMusic

Compilations

Datawaslost : Building
More Info . Add To Cart : $4

© two thousand ~ twenty . datawaslost