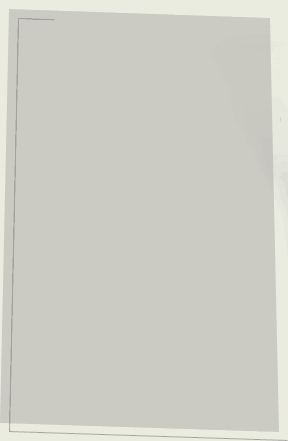 Tracklisting
01 . Burning Star Core - Ten Eyes Under Three Skies (Version)
02 . Coltrane Motion - Supersexy '67 [ mp3 ]
03 . Coltrane Motion - Grass / Sky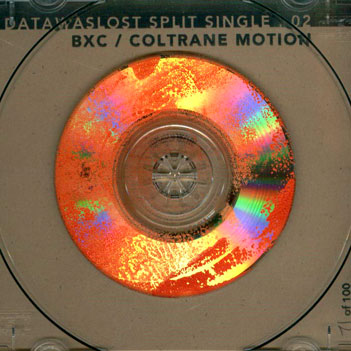 Burning Star Core / Coltrane Motion : Datawaslost Split Single.02
DWL031 . Released September 2002 . Out of Print
Description
Second in our series of limited edition split singles, pairing noise artist Burning Star Core with the 60's-inspired electro-pop of Coltrane Motion.
Reviews
Here's a unique idea. Splitting the difference between the popular split 7" format and a split EP, the Datawaslost label is offering split CD singles, featuring two bands offering two tracks each. These mini discs come numbered, with only 100 of each being pressed, and I feel honored to have copies of the first two editions. The whole series will focus on Cincinnati-area artists, which helps narrow the scope a bit, but the artists themselves are quite diverse, coming from indie-rock, post-punk, electronica, experimental, and combinations of the genres.

The second edition in the series contains full bands. Burning Star Core has been around for 10 years, releasing a variety of tapes and CD-Rs, while Coltrane Motion is working on its second release. Burning Star Core only offers one track, but it's 10 minutes long, and 'Ten Eyes Under Three Skies' is an odd track. Odd beats, off-kilter effects, and a sort of charming chiming fill this track, and while it drags on obscenely, at times, it's also pleasant as a kind of laid-back, beat-driven ambience. 'Supersexy '67' from Coltrane Motion is pretty similar to its name - a sexy rock track riding Brit-style beats and vocals and great backing vocals. By contrast, 'Grass / Sky' almost sounds like another band. Soft, with acoustic guitars and hushed vocals, it's pretty during the verses and soaring during the chorus. These two songs are stellar and reason enough to buy into this series.

I have to commend Datawaslost for introducing a host of young bands, for the most part, usually lo-fi-style projects. These artists get better and more accessible with every release, and this series is a nice way to introduce fans to some excellent artists. The fact that they're all from the same place is a side note, really, one that speaks very well for Cincinnati. I'll look forward to hearing more in this series.

- Delusions of Adequacy . August 3, 2003

A Cincinnati label called DATAWASLOST has dropped a ton of stuff on me in the past month including the beginnings of a new split single series still early enough for you to hop on board and collect'em all. Two bands adorn each volume with the music being released on a mini-disc CD-R. These mini CD-Rs are detrimental to MOST CD players except those of which you have topop the CD directly onto the spindle. You try any other form of CD player, like the tray kind or a car stereo type one and bam! It will proly screw the thing up. Theres no explanation of this anywhere on the packaging either. No 'how to' or nothing!!! Its just something you have to figure out on your own. Which is fine with me. In todays modern society, everything is becoming more and more CONVIENENT. We, the downtrodden; and yes, you are DOWNTRODDEN too -- no matter how you think your fucking above it -- have to do whats in our power to embrace such concepts as IN-CONVENIENCE. DATAWASLOST got my attention with their CD compilation called BUILDING a while back and I been keeping an eye on them ever since. They have become one of my favorite local labels here lately. Well with this CD single series, they have a hold of something that is pretty damn interesting..

Volume two features three songs also by Cincinnati area artist. BURNING STAR CORE, providing the first track, is more mechanical/Dust Brothers sort of electronica type shit. Pretty ambiant.. Sonic-art.. It sets moods. COLTRANE MOTION provides the last two remaining songs. The first "Supersexy '67" is drum heavy with moody soft guitars. Braking in and out with bass hooks. Its laid out like a techno dance track building and building throughout the song with layers. Catchy though, like The Breeders. The second Coltrane Motion song is a softer, mostly acoustic number and sounds like something you would hear on Nirvana unplugged. That isnt an insult to me either so dont get any ideas.
© two thousand ~ twenty . datawaslost