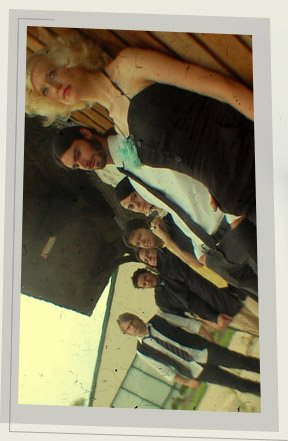 Website
http://www.minorleaguesmusic.com
Lineup
Ben Walpole . Lead Vocals, Keyboards
Patrick Helmes . Guitar
Matt Retherford . Drums
Jesse Rogers . Bass
Hilly Kenkel . Vocals, Tambourine
Luke McGlasson . Horns
Amanda Lee Anderson . Keyboards

Contact
Ben Walpole . info@minorleaguesmusic.com

Elsewhere
[ Facebook ] [ Twitter ] [ YouTube ] [ Bandcamp ] [ MySpace ]
Shows
Past Shows
The Minor Leagues
Ben Walpole wishes he were British, fronting Pulp in 1995. Patrick Helmes wishes he were playing lead for Megadeth in 1988. But cruel fate has instead placed them both in the Minor Leagues, playing insidiously catchy indiepop for most of the last decade from their Cincinnati, Ohio homebase.

The Leagues' sixth allbum arrived on Datawaslost in 2012, a baroque portrait of the neighborhood-as-history entitled 'North College Hill'. The entire record delights in nostalgia, with Brill Building arrangements filtered through the drive and sing-along choruses of 90s Brit-pop, all set against a backdrop of lush instrumentation. It's this melange of orchestral pop sounds that's earned their previous albums comparisons to Beulah, New Pornographers, Blur, and Belle & Sebastian, while managing to sound almost nothing like any of them.

Joined live by Matt Retherford (Wilco, 1995), Jesse Rogers (Beach Boys, 1965), Luke McGlasson (Specials, 1978), Amanda Lee Anderson (Belle & Sebastian, 1999) and Hilly Kenkel (Ronettes, 1962), the Minor Leagues have taken their now-septet on the road, touring the Midwest and beyond in support of the new record.
Discography

The Tastemakers
{ DWL057 . Digital Single . 2012 }
A brasher, more up-tempo side of The Minor Leagues, in two-minute spitfire pop-song fashion.
MP3s [ The Tastemakers ] [ Words Are Not Deeds ]
More Info . Stream on Bandcamp


North College Hill
{ DWL056 . LP . 2012 }
The latest release from this Cincinnati seven-piece to pair stinging melancholy with insidiously catchy melodies.
MP3s [ Ghost Maps ] [ Secret Codes ]
More Info . Add to Cart : $10 . iTunes . Bandcamp . Spotify


Ghost Maps
{ DWL053 . Digital Single . 2011 }
New single, available now for free download! Alternate mixes from their latest album, 'North College Hill'.
MP3s [ Ghost Maps ] [ Please Don't Throw My Love.. ]
More Info . Stream on Bandcamp


This Story Is Old, I Know, But It Goes On
{ DWL051 . LP . 2009 }
Another dazzling, epic concept album about love lost, bursting with clever hooks and vibrant production.
MP3s [ Good Boys ] [ The Love That Never Was ]
More Info . Add to Cart : $10 . iTunes . eMusic . Spotify


The Pestilence Is Coming
{ DWL043 . LP . 2006 }
Orchestral pop concept album about French Canadians and the end of the world
MP3s [ Scene It All Before ] [ The Pestilence Is Coming ]
More Info . Add to Cart : $10 . iTunes . eMusic . Spotify


Mail Order Brides
{ RUT003 . LP . 2005 }
Collection of Single of the Month Club releases

MP3 [ Don't Shoot Your Gun ]
More Info


Datawaslost Split Single.04
{ DWL033 . EP . 2003 }
Split single with indie-popsters Morals Galore

MP3 [ Super Grass ]
More Info . Add To Cart : $3


Sometimes My Arms Bend Back
{ RUT002 . LP . 2003 }
Second self-recorded & self-released album

MP3 [ Better Than Me ]
More Info


Be Kind To Beginners
{ RUT001 . LP . 2002 }
Debut LP of lo-fi pop gems

MP3 [ Only The Beginning ]
More Info

© two thousand ~ twenty . datawaslost