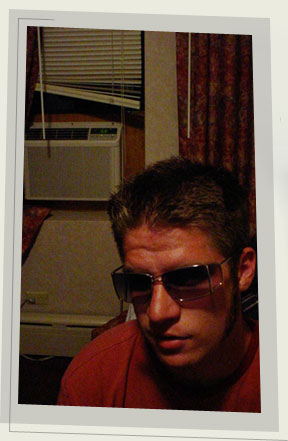 Lineup
Tim Heyl . Everything

Related Artists
Swissfarlo, The Most Powerful Telescope In The Universe
Contact
Tim Heyl . tim@datawaslost.net
Cincinnati, OH


Velcro One
Velcro One is Tim Heyl, breaking from his duties with noise-rock quartet Swissfarlo to play an offbeat mixture of acoustic folk and modern indiepop. This one-man side project arose from hours of home recording experimentation, drawing from influences such as Syd Barrett, Bob Dylan, Kleenex Girl Wonder and Beck.

After releasing the relatively straightforward Castaway on a Houseboat in 2000, Heyl began to work with loops/noise/feedback within his acoustic folk pieces. This over-riding concept became a staple for his next, aptly titled EP: Amateur Loops. Recorded entirely in his bedroom studio over a period of six months, the disc uses its lo-fi production and sparse insrumentationto its advantage, layering tracks of acoustic guitar, looped feedback and heartfelt vocals to create a dense, warm sound.

The disc was well-recieved, even as Tim moved on to more beat-driven sounds, collaborating with Coltrane Motion for We Are the Media We Love, a split cd that sheds the artists' more lo-fi tendencies in exchange for crisp drum loops and electronic cutups, without abandoning the personal touch that defined their earlier work.
Discography
We Are the Media We Love
{ DWL038 . LP . 2003 }
Split LP with lap-pop artist Coltrane Motion

MP3 [ No Lemon, No Melon ]
More Info . Add To Cart : $10 . iTunes Music Store . eMusic

Datawaslost Split Single.01
{ DWL029 . EP . 2002 }
Split single with Spectacular Fantastic side project Folk?

MP3 [ A Futile Answer ]
More Info . Add To Cart : $3


Amateur Loops
{ DWL022 . EP . 2001 }
Lo-fi acoustic folk-pop submerged in swirling loops and electronic experimentation.
MP3 [ Like a Girl ]
More Info . Add To Cart : $5 . iTunes Music Store . eMusic

Castaway on a Houseboat
{ DWL006 . LP . 2001 }
Debut LP of sparse acoustic folk and offbeat indiepop

MP3 [ No Flash ]
More Info
Compilations

Datawaslost : Beep Click Strum Sing
More Info . Add to Cart : $5

Datawaslost : One.Two.Three
More Info . Add To Cart : $5

Datawaslost : Building
More Info . Add To Cart : $4

Datawaslost : The Four-track Graduates
More Info
© two thousand ~ twenty . datawaslost